Wellness Retreats for Mums
A weekend away for mums to feel relaxed, recharged, and refreshed.   
Mums Wellness Getaway is a realistic weekend retreat with the right balance of wellness and real connection. We include a balanced mix of wellness, relaxation, good food, laughs and wine (if you so desire). 
As mums, we tend to put our own health and wellbeing below the needs of our family. However, it's unsustainable.  Long-term, you cannot continue to function this way when you are stressed, exhausted and running on empty. 
This ultimate self-care weekend away for mums will leave you feeling like yourself again. You'll walk away rested and re-invigorated to take on motherhood's daily challenges for weeks and months to come. 
Feel relaxed, recharged and refreshed with Mums Wellness Getaways
Your luxury retreat for mums includes:
2 nights luxury beachside accommodation

One on one wellness coaching session

Wellness workshop - Realistic Self-Care

Morning yoga session

Dinner Fri and Sat at local restaurants

Drinks and grazing platter Fri and Sat 

Breakfast daily

Lunch Saturday

Retreat Pamper Pack 

Morning beach walk

Time for yourself

Heated magnesium pool

Push bikes to explore the area

Massage (extra cost)
More reasons to come along:
Lower your stress and anxiety levels

Get plenty of 'Me' time 

Take a break before you burn out

Connect with mums just like you

Quieten your mind

Catch up on lost sleep

Only yourself to care for

Nothing to plan or organise for 2 whole days

Feel more human - connect with who you are beyond a mum

Focus on self-care and how to build it into daily life

Kick start your new wellness journey

Become the best version of yourself
Next Getaway
Friday 10th - Sunday 12th September 
2pm Arrival Friday
12pm Departure Sunday
Casuarina, NSW, Australia
Island luxe beach house, located 50m from the white sands of Casuarina. Within walking distance of local restaurants, retail and cafes. The house has four spacious bedrooms, all located upstairs, 2 common bathrooms and ensuite off the main bedroom. Open and airy, the kitchen and living spaces all look out to the pool and alfresco dining.
Can't make the September retreat?
Email kasey@mayhemtomindful.com.au to register your interest for the next Mums Wellness Getaway and be the first to know when rooms are released.
2.00pm Arrival
3.00pm Wellness Workshop - Mindfulness and Stress
4.30pm Drinks and grazing platter
6.30pm Dinner at a local restaurant
8.00am Beach walk
9.00am Breakfast available
9.30am Your choice - one on one coaching session, swim, explore the area or simply relax
12.00pm Departure
8.00am Yoga session
9.00am Breakfast available
9.30am Your choice - one on one coaching session, massage, swim, explore the area or simply relax
12.30pm Lunch available
1.30pm Your choice - one on one coaching session, massage, swim, explore the area or simply relax
4.00pm Wellness Workshop - Realistic Self-Care with grazing platter and drinks
6.30pm Dinner at a local restaurant
Massages (additional cost) must be secured when you complete your booking. Places may be available to book on the day but cannot be guaranteed.
One on one coaching sessions (included in package) will be booked in on arrival.
Each package price includes accommodation, meals and inclusions as listed above.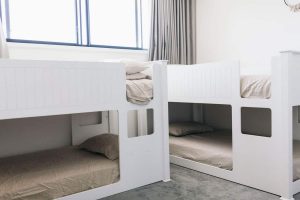 King Single Bunk (4 per room) $610pp
ROOM SOLD King Room with Ensuite $830 single or $650pp share.
ROOM SOLD Queen Bed $730 single or $610pp share.
ROOM SOLD King Single Bed (2 per room) $650pp
Minimum $100 deposit required at time of booking with weekly, fortnightly or monthly payment plans available. 
Have a Group of Mums Ready? 
Mums Wellness Getaways can be tailored to the needs of your group. Why not get your mums' group or a bunch of girlfriends together and we will arrange your weekend away for you!
To discuss this option, or for any questions about the Mums Wellness Getaway, please contact Kasey on 0402 437 922 or kasey@mayhemtomindful.com.au